Joe Pye Weed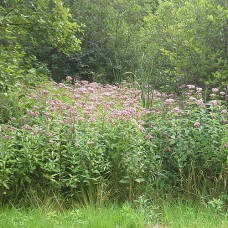 Warranty
We warranty our perennials to be true to name, and healthy at the time of pickup. Concerns must be expressed at the time of receipt. Our total liability is limited to the purchase price of the product only.
Attributes
Pot Size
2" X 5"
Joe-Pye Weed
Eupatorium maculatum
100-200 cm (39-78 in)
Pot Size: 2" X 5"
Appearance: Flowers bloom in summer; Red/pink; indistinguishable parts (petals). Leaves; opposite/whorled, simple, toothed.
Site and soils: Forests, fields and open areas. Prefers shade.
Rural plantings:
Urban settings:
Native to: