Red Oak (60cm+)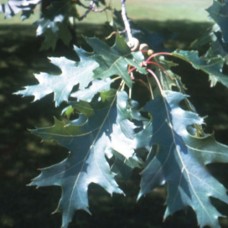 Availability
Availability is based on anticipated survival and growth, actual availability may change due to variations in stock development during the growing season.
Please check back regularly for product additions.
Warranty
We warranty our seedlings, trees and shrubs to be true to name and to be healthy at the time of pickup or shipping. Concerns must be expressed at the time of receipt. Our total liability is limited to the purchase price of the seedlings only.
Attributes
Age
1+0
Size
20cm+
Red Oak
Quercus rubra
25 metres (80 feet)
100+ years
Bareroot Seedlings
Age: 1+0
Size: 12+ cm
Appearance: Dull green bristle-tipped leaves. Smooth, lined young bark; grooved and ridged, dark, mature bark.
Site and soils: Best on deep, well-drained sandy loam. Tolerates drier conditions. Avoid heavy, wet soils. Tolerates some shade when young. Responds well to thinning.
Rural plantings: Reforestation, timber plantations, wildlife food source. Grows well with pines and other broadleaf trees.
Urban settings: Large, attractive ornamental. Tolerates urban conditions.
Native to: Southern and central Ontario