Nannyberry (25cm+)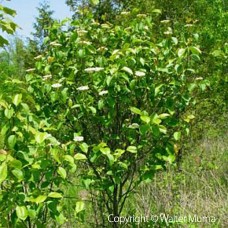 Availability
Availability is based on anticipated survival and growth, actual availability may change due to variations in stock development during the growing season.
Please check back regularly for product additions.
Warranty
We warranty our seedlings, trees and shrubs to be true to name and to be healthy at the time of pickup or shipping. Concerns must be expressed at the time of receipt. Our total liability is limited to the purchase price of the seedlings only.
Attributes
Age
3+0
Size
15cm
Nannyberry
Vibumum lentago
5 metres (15 feet)
Bareroot Seedlings
Age: 3+0
Size: 30+ cm
Appearance: Large shrub or small tree, simple yellow-green leaves; blue-black autumn berries. Gray-brown, fine, scaly mature bark.
Site and soils: Adapted to a wide range of soils. Best in moist soils. Best in full sunlight. Tolerates some shade.
Rural plantings: Restoration, widlife food source.
Urban settings: : White late spring flowers; shrub or small tree form.
Native to: Ontario