Cardinal Flower (Lobelia cardinalis) (1 gallon)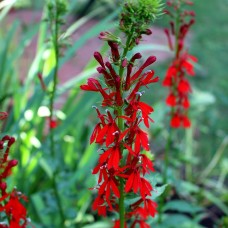 Warranty
We warranty our perennials to be true to name, and healthy at the time of pickup. Concerns must be expressed at the time of receipt. Our total liability is limited to the purchase price of the product only.
Attributes
Pot Size
1 gallon
Size: 2 to 4 feet in maturity.
Habitat: Moist to wet site, in forested areas, stream banks and marshes.
Bloom Time: Midsummer/early fall.
Bloom Colour: Red
Special Mentions: Attracts birds, hummingbirds; supports pollinators.