Blue Vervain (Verbena hastata) (1 Gallon)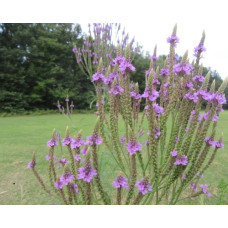 Warranty
We warranty our perennials to be true to name, and healthy at the time of pickup. Concerns must be expressed at the time of receipt. Our total liability is limited to the purchase price of the product only.
Attributes
Pot Size
1 gal
Blue Vervain
Verbena hastata
120-150cm (4-5 feet) in height, 100cm (3.3 feet) in width
Pot Size: 1 Gal
Appearance: Slender, with upright form and reddish-green coloured stems
Bloom Time: July – September.
Uses: flowers are beneficial to pollinator species, like bees and butterflies. The seeds are also beneficial to wildlife species, like birds and small mammals.
Site and soils: Moisture Level: moist, wet Light Conditions: full sun, part sun Soil Conditions: sand, clay, loam
Native to: This wildflower can be naturally found around swamps or marshes, in bogs, and along river or lake shorelines.