Black-eyed Susan (1 Gallon)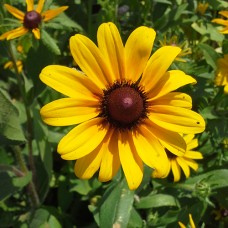 Warranty
We warranty our perennials to be true to name, and healthy at the time of pickup. Concerns must be expressed at the time of receipt. Our total liability is limited to the purchase price of the product only.
Attributes
Pot Size
1 Gallon
Black-eyed Susan
Rudbeckia hirta
30-180 cm (12-39 in)
Pot Size: 1 gallon
Appearance: Flowers have yellow florets circling brown or black, dome-shaped cone. Daisy-like flowers bloom in summer and early autumn. Leaves; alternate, long, coverd by coarse hair, with stout branching stems.
Site and soils: This can be biennial or a short-lived perennial. It is best to leave the flower heads on, and allow it to reseed. Open areas, fields, containers. Prefers sun.
Rural plantings:
Urban settings: Ornamental. Attracts bees and butterflies.
Native to: